The threat actor who posted the data for sale has claimed credit for multiple other breaches, including one at grocery platform Weee! that exposed data on more than 1.1 million customers.
Jai VijayanContributing Writer, Dark Reading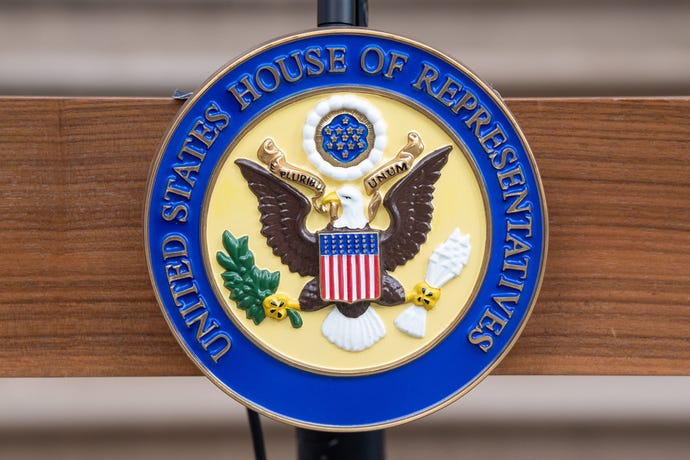 Hundreds of US lawmakers and their families are at risk of identity theft, financial scams, and potentially even physical threats after a known info-theft threat actor called IntelBroker made House of Representatives members' personally identifiable information (PII) available for sale on the "Breached" criminal forum.
The information, confirmed as being obtained via a breach at health insurance marketplace DC Health Link, includes names, Social Security numbers, birth dates, addresses, and other sensitive identifying information. The data on the House members was part of a larger data set of PII belonging to more than 170,000 individuals enrolled with DC Health Link that the threat actor put up for sale this week.
DC Health Link: A Significant Breach
In a March 8 email to members of the House and their staff, US House Chief Administrative Officer Catherine Szpindor said the attack on DC Health Link does not appear to have specifically targeted US lawmakers. But the breach was significant and potentially exposed PII on thousands of people enrolled with DC Health Link.
"The FBI also informed us that they were able to purchase this PII, along with other enrollee information, on the Dark Web," Speaker of the House Kevin McCarthy (R-Calif.) and House Minority Leader Hakeem Jeffries (D-N.Y.) said in a joint letter to the executive director at DC Health Link on March 8. The letter sought specifics from the health exchange on the breach, including details on the full scope of the attack and DC Health Link's plans to notify affected individuals and offer credit monitoring services for them.
Despite the letter, details of the intrusion at DC Health Link are not yet available. The organization, governed by an executive board appointed by the DC mayor, did not immediately respond to a request for comment on the incident.
A report in BleepingComputer this week first identified the threat actor as the appropriately named IntelBroker, after the cybercriminals put the stolen data up for sale on March 6. According to the underground forum ad, the data set is available for "an undisclosed amount in Monero cryptocurrency." Interested parties are asked to contact the sellers via a middleman for details.
IntelBroker's Resume of Previous Breaches
This is not the first big heist for the group: A threat actor, using the same moniker in February, had claimed credit for a breach at Weee!, an Asian and Hispanic food delivery service. IntelBroker later leaked some 1.1 million unique email addresses and detailed information on over 11.3 million orders placed via the service.
Security vendor BitDefender, which covered the incident in its blog at the time, published an ad that IntelBroker placed on BreachedForums that showed the attacker boasting about obtaining full names, email addresses, phone number, and even order notes which included apartment and building access codes.
Meanwhile, Chris Strand, chief risk and compliance officer at Cybersixgill says his company has been tracking IntelBroker since 2022 and is about to release a report on the actor. "IntelBroker is a highly active Breached member with an 9/10 reputation score, who claimed in the past to be the developer of Endurance ransomware," Strand says.
IntelBroker's use of Breached to sell the health exchange PII, instead of a dedicated leak site or a Telegram channel, is consistent with the threat actor's previous tactics. It suggests either a lack of resources or inexperience on the individual's part, Strand says.
"In addition to IntelBroker's presence on Breached, the threat actor has maintained a public GitHub repository titled Endurance-Wiper," he tells Dark Reading.
In November, IntelBroker claimed that it used Endurance to steal data from high level US government agencies, Strand notes. The threat actor has in total made some 13 claims about breaching top US government agencies, likely to attract customers to a ransomware-as-a-service (RaaS) program. Other organizations that IntelBroker claims to have broken into include Volvo, cult footwear maker Dr. Martens, and an Indonesian subsidiary of The Body Shop.
"Our intelligence analysts have been tracking IntelBroker since 2022, and we have been collecting intel attributed to that threat actor since then, as well as associated threats that have been related or attributed to IntelBroker," Strand says.
Is House Members' PII a National Security Threat?
Justin Fier, senior vice president of red team operations at Darktrace, says the threat actor's reason for putting the data up for sale appears to be purely financially motivated rather than political. And given the high profile of the victims, IntelBroker may find that the attention the breach is garnering will increase the value of the stolen data (or bring more heat than it would like).
The buyers might be another story. Given the availability of physical addresses and electronic contact information, the kinds of potential follow-on attacks are myriad, ranging from social engineering for identity theft or espionage, to physical targeting, meaning that interested parties could run the gamut in terms of motivation.
"The amount tells you a great deal about who they may be thinking of in terms of buyers," he says. If all that the threat actor ends up asking is a couple of thousand dollars, they are likely to be a smaller criminal enterprise. But "you start talking millions, they are clearly then catering to nation-state buyers," he says.
Fier assesses that the data that the threat actor stole on US House members as potentially posing a national security issue. "We shouldn't only think external nation-states that might want to purchase this," Fier says. "Who is to say that other political parties and/or activists couldn't weaponize it?"
https://www.darkreading.com/application-security/us-lawmakers-cyberattacks-physical-harm-dc-health-link-breach
Previous posts on Cyber Attacks
InfoSec Threats | InfoSec books | InfoSec tools | InfoSec services