Over the past several months, the Threat Analysis Group has identified an ongoing campaign targeting security researchers working on vulnerability research and development at different companies and organizations. The actors behind this campaign, which we attribute to a government-backed entity based in North Korea, have employed a number of means to target researchers which we will outline below. We hope this post will remind those in the security research community that they are targets to government-backed attackers and should remain vigilant when engaging with individuals they have not previously interacted with.
In order to build credibility and connect with security researchers, the actors established a research blog and multiple Twitter profiles to interact with potential targets. They've used these Twitter profiles for posting links to their blog, posting videos of their claimed exploits and for amplifying and retweeting posts from other accounts that they control.
Their blog contains write-ups and analysis of vulnerabilities that have been publicly disclosed, including "guest" posts from unwitting legitimate security researchers, likely in an attempt to build additional credibility with other security researchers.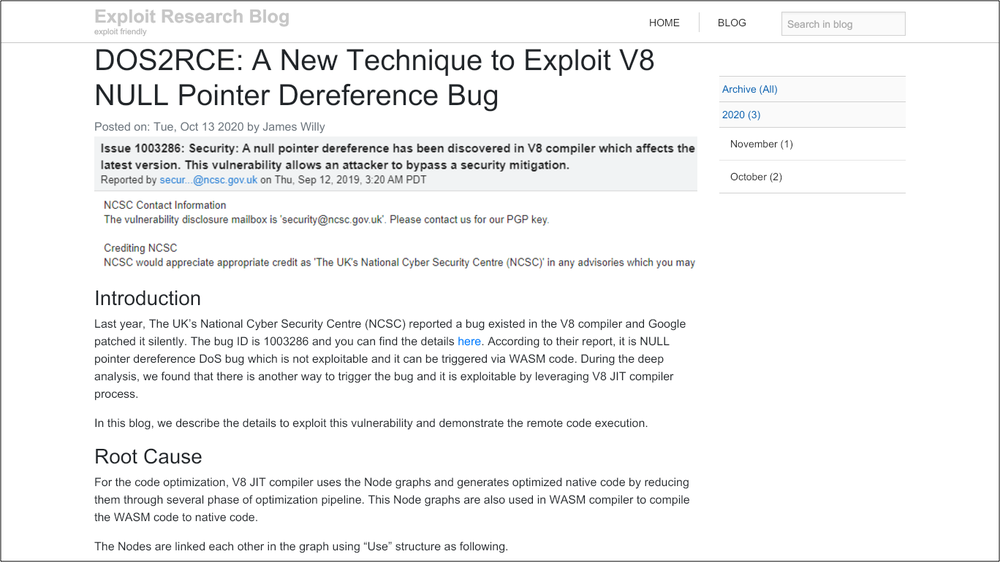 While we are unable to verify the authenticity or the working status of all of the exploits that they have posted videos of, in at least one case, the actors have faked the success of their claimed working exploit. On Jan 14, 2021, the actors shared via Twitter a YouTube video they uploaded that proclaimed to exploit CVE-2021-1647, a recently patched Windows Defender vulnerability. In the video, they purported to show a successful working exploit that spawns a cmd.exe shell, but a careful review of the video shows the exploit is fake. Multiple comments on YouTube identified that the video was faked and that there was not a working exploit demonstrated. After these comments were made, the actors used a second Twitter account (that they control) to retweet the original post and claim that it was "not a fake video."
Source: New campaign targeting security researchers