"Learning is an experience. Everything else is just an information."
The quote implies that true learning is not just about acquiring information but also experiencing it in a way that creates a deeper understanding and meaning.
Learning involves more than just memorizing facts or acquiring knowledge. It requires actively engaging with the material, processing it, and making connections between different concepts. When we experience something, we engage with it on a deeper level, and this can lead to a more meaningful and lasting learning experience.
For example, imagine learning a new language by simply memorizing vocabulary words and grammar rules without ever actually practicing the language with native speakers or immersing oneself in the culture. In contrast, if we actively engage with the language by speaking it, listening to it, and experiencing the culture, we are more likely to develop a deeper understanding and appreciation for the language.
Therefore, while information is necessary for learning, it is not sufficient on its own. To truly learn and understand something, we must engage with it and experience it in a meaningful way.

Professional Certificate
MicroMasters® Programs
MicroMasters® Programs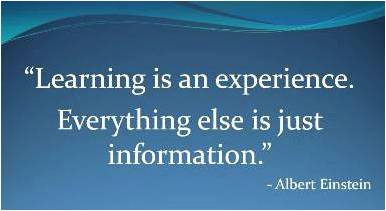 InfoSec Threats | InfoSec books | InfoSec tools | InfoSec services